THE BLADE
I hand grind the blade from A2 tool steel then harden and temper to 60-61 Hrc The large secondary bevel is hollow ground to a mirror finish. The cutting edge is actually a micro-bevel honed to to a razor edge. The back is lapped flat also to a mirror finish. Each one carries my mark.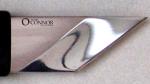 THE HANDLE
The wood is Texas Mesquite. It is a very hard, dense and stable wood . The ends are capped with water buffalo horn. It is wrapped with twisted fine silver and a silver tube pierces it allowing the knife to be hung up out of the way but visible. I also hand shape and finish the handle.
DIMENSIONS
Overall length is 8.5"
Blade is 1" wide by 6" long by .1875" thick. It extends full width 3.5 " into the handle giving it the right amount of weight and balance.
Handle is is 1.25" wide by 6" long by .750 thick.